Choosing a Career
Choosing a Career is one of the most important milestones in an individual s life.
The decisions you make now will have a significant impact on the rest of your personal and professional life.
Important Factors to take into account:
When you have an idea of the career path you want to pursue, it can help you make the best decisions about your training and education. It is therefore critical that you have the right information about the careers that you are interested in. This becomes even more important if you are hoping to go into a field where there is a shortage of skills. Make sure that you are aware of all the post-school options available to you.
In order to make an informed career choice, you need to know about a number of things, namely: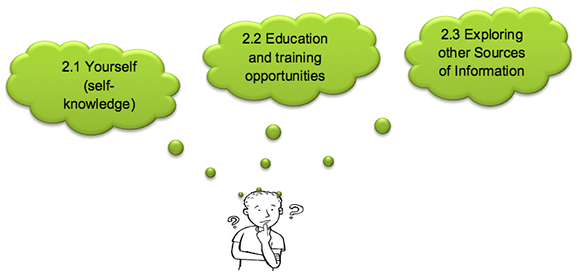 Self-Knowledge
People are different and look for different things in jobs. For instance some people are artistic and creative in nature and therefore thrive in environments that encourage creativity. These people tend to feel limited by rules and do not like routine. Others are exactly the opposite, preferring an environment with clear expectations and rules.
You must know your values and interests:

Values are things that are important to you and are mostly influenced by family, religion, school, etc. Some people enjoy careers that give them the opportunity to lead or guide whilst others prefer careers that allow them to work independently.


Interests are those things that you enjoy and like doing. An individual who likes working with money could consider a career in accounting whilst someone who enjoys working with their hands and machines could consider a career in engineering or surgery.


In addition you may have skills that you learnt from your family like fixing cars, cooking, drawing, etc. You may want to consider these when making a career choice, especially when you are good at them.
Training and learning opportunities
Now that you have explored your interests and the type of career you are interested in, you need to know what type of training and learning will enable you to enter into that career.
Available within training and learning opportunities is:

Technical Vocational Education and Training (TVET):
Technical Vocational Education and Training consists of vocational and occupational courses that have a great focus on practical training these courses can offer a range of employment opportunities. You can either pursue a career in your specific field of study once you have completed your course or you can continue your studies at a higher education institution. Students who intend to follow a specific career may choose a public TVET College and register for one of the vocational programmes or designated courses. Public TVET Colleges are positioning themselves as post-school institutions to cater for students and adults who want to pursue a vocational career path.


South African Universities offer a combination of academic and vocational diplomas and degrees, while the country's universities of technology focus on vocationally oriented education. Some also offer theoretically-oriented university degrees.


Learnerships
A Learnership is a work-based learning programme that leads to an NQF registered qualification. Learnerships are directly related to an occupation or field of work, for example, electrical engineering, hairdressing or project management. Learnerships are managed by Sector Education and Training Authorities (SETAs). They were introduced by government to help skill learners and to prepare them for the workplace. Learnership programmes can help you to gain the necessary skills and workplace experience that will open up better employment or self-employment opportunities.


Exploring other Sources of Information
We also encourage you to explore and consult with and seek advice from other career related sources such as the National Career Advice Portal (NCAP) which can be found at http://www.careerhelp.org.za or by going to http://ncap.careerhelp.org.za


Conduct an Informational Interview - An Informational Interview is designed to seek information from one key industry or professional to learn more about their current, work, and educational experience or to ask advice about how to be successful in your career goals. The job seeker uses the informational interview to gather information about their desired career field as well as to expand their professional network.